The Best Plastic Pool for Kids of All Ages By Maskeen Overseas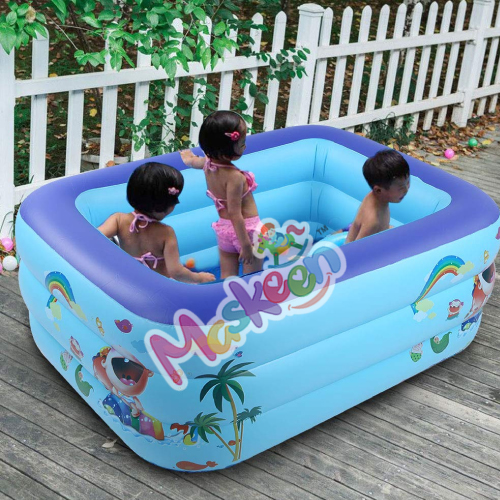 When it comes to creating a fun and refreshing outdoor experience for kids, a high-quality Plastic Pool is an essential addition to your play area. As a trusted manufacturer, Maskeen Overseas offers a range of innovative and safe pools designed to delight kids of all ages. From the youngest splash enthusiasts to active older children, our pools cater to everyone's enjoyment. In this article, we explore the benefits of choosing an Artificial Pool that is made of plastic, along with the versatility and excitement they bring to outdoor play.
To find the best plastic pool for kids of all ages, I recommend doing some research and considering the following factors:
Size: Choose a pool size that is appropriate for the age and number of kids who will be using it.
Durability: Look for a pool made from sturdy and safe materials to ensure it will last through multiple seasons.
Safety: Check for safety features such as non-slip bottoms, smooth edges, and any necessary safety certifications.
Safe and Durable Design
We understand this and place safety at the forefront of our design process. Our pools are made from high-quality, non-toxic materials, ensuring that they are safe for children to play in without any harmful effects.
Additionally, our pools are built to last. They are designed to withstand the rigors of outdoor use, including exposure to sunlight and varying weather conditions. The durability of our pools ensures that they will provide years of enjoyment for kids of all ages.
Easy Assembly and Maintenance
These pools are designed with easy assembly and maintenance in mind. Most of our pools are inflatable, making them simple to set up and take down. This means you can have a refreshing pool experience for your children without the hassle of complex installations.
Furthermore, our pools are easy to clean and maintain. They are made from materials that are resistant to water and dirt, making cleanup a breeze. This convenience ensures that you can spend more time enjoying outdoor play with your children and less time on maintenance tasks. One of the key advantages of Maskeen Overseas pools is their versatility. For younger children, our Inflatable Bouncy pools provide a safe and enjoyable environment for splashing and water play. These pools are shallow, making them ideal for toddlers and preschoolers.
To enhance the safety of our pools, We offer EPDM flooring options. EPDM is a high-quality, non-slip flooring material that provides a safe and comfortable surface around the pool area. This flooring option adds an extra layer of safety to your outdoor play space, giving you peace of mind while your children have fun.
Creating Lasting Memories
The joy and laughter that come from outdoor play in an Artificial Pool that is made of plastic are priceless. Our Pools, made of plastic, are designed to create lasting memories for children and their families. Whether it's a summer birthday party, a weekend playdate, or a simple afternoon of fun, our pools provide a backdrop for cherished moments and boundless imagination. For older kids who love imaginative play, our Inflatable Play House offers an exciting world of adventure. These playhouses feature creative designs and provide ample space for multiple children to engage in role-playing and imaginative scenarios.
Our larger pools are perfect for family gatherings and playdates. They offer enough space for older children to swim, splash, and have fun with friends. These pools often feature additional accessories like water slides and water sprayers, adding an extra element of excitement to outdoor play.
We are committed to environmental responsibility. Our pools are made from materials that are safe for children and the environment. When you choose an Artificial Pool that is made of plastic, you can feel good knowing that you are making a responsible choice for your family and the planet.
We offer the best Artificial Pool that is made of plastic options for kids of all ages. Our commitment to safety, durability, versatility, and ease of maintenance makes our pools the perfect addition to any outdoor play area. With EPDM Flooring for added safety and a focus on creating lasting memories, our pools provide a world of fun and adventure for children and their families. Choose a Maskeen Overseas Artificial Pool that is made of plastic and watch as your children's faces light up with excitement and joy as they embark on countless aquatic adventures.