Things To Look For While Selecting Slides For Kids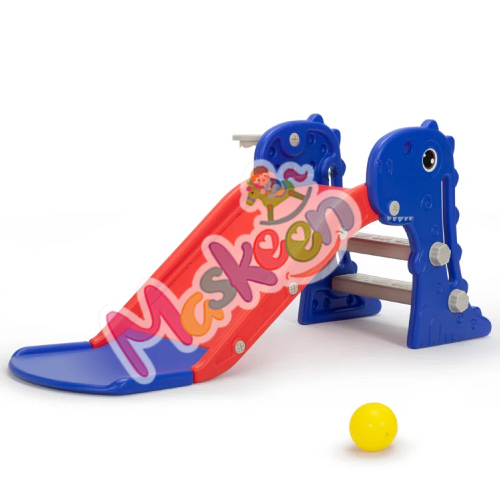 Choosing the right Slide for your children may transform an average playground into a world of adventure and enjoyment. However, with so many alternatives on the market, it might take time to choose the best one. The perfect Slide should not only give hours of entertainment but also assure safety and stimulate physical and cognitive development in youngsters.
Maskeen Overseas offers a wide range of School Slides that are specifically designed for educational institutions. These slides are not only fun and engaging but also promote physical activity and play-based learning. With their durable construction and adherence to safety standards, our Slides provide a safe environment for children to explore, learn, and socialize. From basic slides to more complex structures, we cater to the diverse needs of schools, ensuring that students have a joyful and educational experience on our slides. We will walk you through the important things to consider when choosing slides for kids, allowing you to make an educated and enjoyable decision.
Age and Size Suitability
The first and most important element to examine is the Slide's age and size suitability. Slides are available in a variety of sizes, heights, and styles to accommodate a wide range of age groups. Make sure the Slide you pick is appropriate for your child's age and physical skills. Toddlers will love smaller slides with lesser heights, while older children will prefer bigger and more demanding slides. For safety, always follow the manufacturer's age guidelines.
To enhance the learning environment, Maskeen Overseas provides Classroom Slides that seamlessly integrate with the educational curriculum. Our Slides are designed to facilitate interactive teaching methods, making lessons more dynamic and engaging for students. These slides promote active participation and hands-on learning, fostering creativity and critical thinking among students. With our Slides, educators can transform traditional teaching spaces into interactive and immersive learning environments.
Security Features
When choosing a slide for children, safety should be the primary consideration. Look for features like solid handrails, non-slip stairs or ladder rungs, and smooth, rounded edges. The Slide should be constructed of high-quality materials that can resist the elements and regular usage. To guarantee that the Slide satisfies all the safety criteria, look for safety certificates and conformity with applicable safety standards.
Maskeen Overseas offers a fantastic range of Indoor Slides that provide year-round fun and excitement, regardless of weather conditions. Ideal for indoor play areas, daycare centers, and recreational facilities, our Slides are designed with safety and durability in mind. These slides come in various sizes and styles, catering to different age groups and spatial requirements. Children can enjoy hours of entertainment and physical activity while parents and caregivers have peace of mind knowing that our Slides are built to last.
Material and Sturdiness
Slides suffer from constant wear and tear, particularly in outdoor playgrounds. Choose slides made of long-lasting materials such as high-quality plastic or metal that can survive repeated usage and exposure to the outdoors. A sturdy slide will not only endure longer but will also create a safer play environment for your children.
Installation and Space Prerequisites
Before deciding on a slide, think about the installation method and the available area. Some slides are intended for simple construction, while others may need expert installation. Take measurements in your garden or playground to verify that the Slide fits properly without cluttering the area.
Maskeen Overseas takes pride in manufacturing Montessori Toys that align with the principles of the Montessori educational approach. Our Toys are carefully crafted to encourage independent exploration, hands-on learning, and sensory development in young children. These toys stimulate curiosity, creativity, and cognitive skills, making them an essential component of any early childhood learning environment. With a focus on eco-friendly materials and child safety, our Montessori equipment provides a valuable educational resource for parents and educators alike.
Aesthetics and Design
While safety and performance are critical, the Slide's design and aesthetics may lend a touch of excitement to the play area. Select a slide with bright colors and engaging motifs that will pique your child's interest. Slides with fascinating themes, such as castles or ships, may transform children's leisure into an imaginative adventure.
Multi-functionality
Consider multi-functional slides to increase the value of your purchase. Some slides have extra elements like climbing walls, tunnels, or playhouses, which may improve the play experience and give more chances for physical exercise and creative play.