How To Organize A Classroom Without Sacrificing Space School Furniture Arrangement Ideas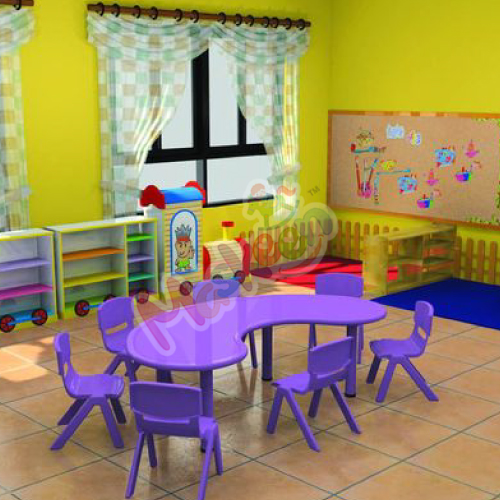 Organizing furniture can be highly beneficial because it can create a more calming and productive atmosphere, which can help reduce stress and improve productivity. It can also make a room feel larger and more inviting, making it easier for children to learn better.
We at Maskeen Overseas are one of the world's leading manufacturers of educational furniture with years of experience in creating functional and innovative classroom furniture designs. With a particular focus on our products being both durable and classic, our products are designed to meet the needs of modern educational settings.
In our role as one of the most reputable Nursery Furniture Manufacturers, we make furniture that is designed to be both safe and durable enough for young children to spend a lot of time playing in. Furniture is manufactured out of non-toxic and non-destructive materials that do not contain sharp edges, breakable material, or other hazards, and is designed to last for a long time.
In order to organize a classroom without sacrificing any space, here are some ideas:
Furniture that is compact is a smart choice:
Compact furniture can save space and help to create an efficient classroom environment. This type of furniture also allows more flexibility in the classroom layout, as the furniture can be arranged in different ways to accommodate different learning activities. Additionally, because of its smaller size, compact furniture is usually lighter and easier to move around. Top School Furniture Manufacturers create desks and chairs that are smaller and more lightweight, making it easier to move them around the classroom. Additionally, utilizing wall space with bookshelves, and whiteboards can help free up floor space for larger activities.
You should create distinct learning areas for your students:
Developing distinct learning areas in the class allows for constructing a more organized and focused environment for studying and focusing in the class. It also helps to reduce distractions and ensures that children stay on task. Having separate areas for each activity makes it easier to keep the students focused on the task at hand. It also helps to reduce clutter and confusion in the classroom, which can lead to increased student engagement and let students focus on the task.
Keep the student-organized by encouraging them consistently:
You should provide students with individual storage solutions for their belongings, and teach them how to keep their workspace clean and organized. By doing so, the student won't have to search for the items they need, and their workspace will be clutter-free. Further, it will make it easier for students to track their progress and understand the topics they have been studying.
We believe that with the help of our dedicated team of professionals and our passion for education, we can make a positive impact on classrooms across the globe with our furniture. We have the expertise and resources to help you design and equip a brand-new classroom or an existing facility. This will enable you to create a learning space that is tailored to your specific needs.