How Do I Select An Appropriate Classroom Furniture Height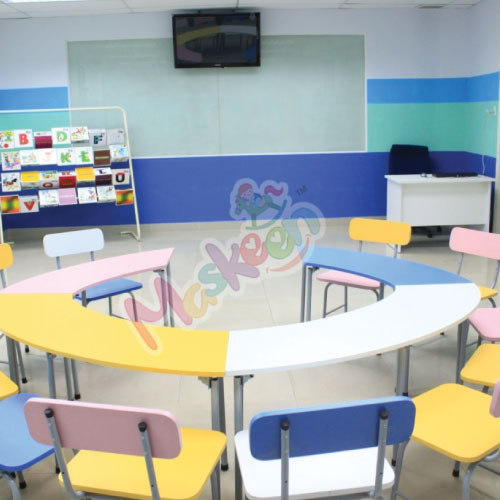 A classroom might be difficult to organize for a variety of reasons. You must conceptualize the room, choose the best arrangement for your pupils and discussion, and often operate within a budget. When it comes to equipping a school classroom, however, the safety and health of your children should always come first. It is essential to choose the proper size seats and tables for youngsters. Professionals in this field and physiotherapists provide well-documented advantages for focus and posture. It is critical for children's academic learning and development that they stay engaged in a dynamic setting.
How to Select the Appropriate Furniture Size:
Chairs are available in a wide range of sizes, styles, colours, and materials. The first consideration must always be comfortable; if youngsters are uncomfortable, they are significantly less likely to focus. The EN1729 standard specified new and suitable chair and table measurements with the purpose of enhancing children's overall body positions and posture from across ages. The message is those chair heights should be proportionate to a child's age, and children's feet should always be able to touch the ground when they sit in their chair. Find School Furniture Manufacturers who export their furnishing items to other nations because they must be following these international guidelines if they are well-established exporters.
What exactly is EN1729 certification, and what will it imply?
The Technical Committee for Europe developed the EN1729 certification, which specifies an optimal height for both chairs and tables that changes based on the age of the children. It specifies school chair heights ranging from 260mm to 460mm and class table heights ranging from 460mm to 760mm - these specifications apply to students aged three to eighteen. The EN1729 certification also includes classroom equipment design, such as ergonomic chair elements to minimize slouching and assist students to sit comfortably with optimal posture. Kids Table Manufacturers who are specialists in the field understand this and they ensure they are completing the international standard demands.
How to Select the Best Chair Size?
You must choose chairs that are both suitable for children to sit on and complement the rest of the furnishings in your classroom. When deciding on a proper chair size, keep in mind that the child's feet must be able to reach the ground when they hang back in the seats. Adequate armchair seat height is frequently determined by the age of the kid, and you should also check any state certification or accreditation standards for chair size. We, as one of the best Kids Chairs Manufacturers ensure that all our products are of top-notch quality and provide comfort to the kids.
How to Select the Proper Table Size?
When selecting the size of a school table, consider the child's participation and comfort. The table should be low enough for a youngster to comfortably rest their elbows while also allowing enough space for their legs to fit beneath it. Accessibility should also be considered for a kid with special requirements, such as wheelchair accessibility. When considering chairs, desks, and even furniture arrangement inside classrooms, keep in mind what sort of atmosphere our children prefer: one that is filled with pleasure rather than a nightmare and one that is filled with ease rather than discomfort.
A regular school desk, without any modifications and uncomfortable seats, could be a very unpleasant experience for both tall and short people as using it would be very uncomfortable. In addition, the height of a desk affects the user's sitting posture and the following factors:
When you are sitting at your desk, your feet should be level on the floor and your knees should be in line with or slightly lower than your hips as you sit at your desk.
A footrest may be necessary if you are a taller person than usual, as your feet may not stay in contact with the floor during prolonged use.
The perfect posture for the student would be a straight arm position at your sides, where your arms are at a right angle to your sides.
You should hold your elbows at a 90-degree angle so that you can control your movement.