Aspects to Consider When Buying School Furniture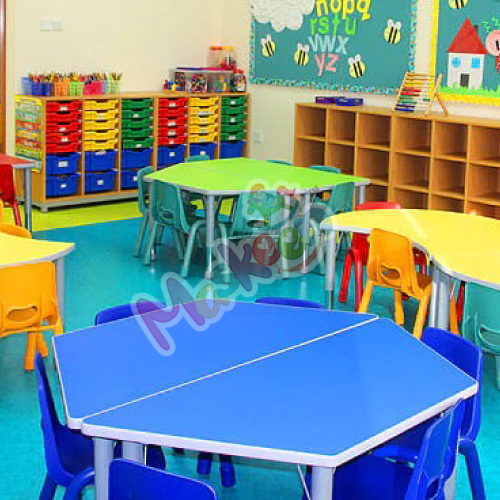 It's time to look for the best School Furniture Manufacturers in the area to buy new tables and chairs for your School, but the options might be bewildering. We have offered some crucial factors for you to examine to assist you in determining which would improve performance for your specific requirements.
Here are some of the most significant considerations to examine when purchasing Furniture for your School:
The Colors:
You should also examine the colour of the Furniture you wish to purchase. This is because the colour of your Furniture should complement the Furniture and decorations in your space. Remember that choosing Furniture in a colour that does not complement your environment makes it unappealing, regardless of its style.
Buy Furniture with a Design that is pleasing and functional:
It should be designed to fit the surroundings in order to give schools a sparkling appearance. Attractive classrooms improve children's moods and raise their enthusiasm and academic participation. However, from a design point of view, assess if it serves the objective. Whether you are purchasing for indoor or outdoor usage should be acknowledged and observed. For outdoor use, the material should indeed be resistant to moisture as well as UV resistant.
Excellent value for money:
A few of the inexpensive school seats and tables offered on the marketplace may seem to be the most outstanding value for money and a more reasonable alternative than a few perfectly matched classroom desks and chairs at first glance. Still, it must be exceedingly sturdy in order to withstand the demands of a school or class. The total life cycle expenses are critical in today's economic environment. Examine the Kids Table Manufacturers research, and if the price is too high, contact schools that are currently utilising the pieces to see what people think of the furnishings.
Competence and manoeuvrability:
Most furnishings are made for school usage. Several outside goods will be ground mixed to avoid theft. However, some Nursery Furniture Manufacturers may provide free-standing equipment with the option of adding casters to help with mobility. Mobility is essential in education since class dynamics are constantly changing.
Theoretically, institutions should be able to change the layout design and atmosphere as the children learn and grow without the need for maintenance employees. The classroom tables and chairs should be flexible, having the option of being either fixed or movable. Numerous institutions have frequent meetings to discuss observations of students utilising the class equipment and surroundings.
Its Lifespan:
Choosing sturdy Furniture helps you save money since you choose Furniture that will last. You have to be able to tell the difference between durable and weak furnishings. To be safe, purchase from firms that are recognised for creating high-quality Furniture, such as Maskeen Overseas. This raises your chances of purchasing environmentally friendly Furniture that is also cost-effective.
Our Budget:
The perfect furniture price should be within your range. It does not imply that you should buy the lowest-priced Furniture available since you may end with inferior condition. But you are not required to spend a significant amount on furnishings. Look for an option that will not deplete your funds but is within your spending plan.
Build:
The highly collaborative idea was created with the social experiences of pupils in mind. When chairs are separated, sure children are often left out and do not get the essential exposure to improve their cognitive and learning skills.
Through social cognition, the collaborative design allows students from diverse backgrounds to study together and understand their lessons. By supporting your workplace buddy with a few easy questions, you may be able to help them increase their capacities via problem-based education.
You must choose school chairs that will last for a long time if you want the best school furniture. A common habit among students is to fidget, hop around the cafeteria, or loiter around expensive equipment, thus putting it at risk of being damaged. Finally, you must invest in durable Furniture.