Why Children Love Playground Slides and Its Benefits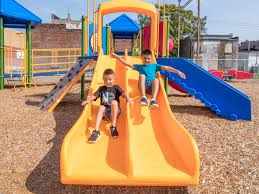 Slides are one of the most playground equipment for children. Visit any playground, it is highly likely you will find many faces playing around the slides with big smiles on their faces. As the specialist Playground Slides Manufacturers we can easily say that slides and swings are such playground equipment that almost guarantees to make children tempted to experience the exhilaration of fun.


Children Love the Thrill and Fun
If you are thinking of installing a playground slide even in your backyard, it is going to be worth it. Since children love the thrill and fun they get through playground slides, your children will have loads of fun in your own backyard. Since they seek to thrill and explore their surroundings, slides provide them with an incredible opportunity of attaining such thrill.
Keeping safety measures and guidelines in mind and supervising children when they are playing around slides, you are ensuring your child to truly experience a thrilling rush of adrenaline without fear of any major injury. Denying them from playing with slides, means denying them an incredible experience.
Benefits of Playground Slides
If you ask any child what their favourite playground equipment is, mostly you will get 'a smooth and fast-moving slide' as an answer. Although, we can't deny their liking towards playground slides you might be thinking what else benefits does it offer to kids? If yes, then let us explain some major benefits of playground slides.
We have gained these insights while working as specialist Playground Slides Manufacturers over the years. And we hope these insights will clarify and strengthen your conviction of installing a playground slide even in your backyard. Refer the following points for further info.
Boosts Confidence and Exploration
Although the sliding activity is exciting and thrill-seeking for children, it also requires significant confidence to climb up at a height and slide down swiftly. It's an enormous confidence-booster for young kids when they face the challenges of a tall slide, and win.
Strengthens Balance and Coordination
When a kid scales a slide and afterwards effectively propels themselves down the slide panel, they are learning important balance and coordination skills. That activity further helps in enhancing spatial development, as they need to timely determine the opportunity to slide and when to put their feet down once they arrive at the base of the sliding panel.
Encourages Children for Physical Activity
Slides are incredibly tempting for children and makes them go for it repetitively. As it takes quite a physical effort to climb, slide and repeat, they practice a decent amount of physical activity through it. They need to utilise both upper and lower body to pull themselves up and step up the rungs of a stepping stool. This phenomena is equivalent to cardiovascular exercise and helps in improvement of muscles.
Embraces Positive Social Skill Development
You must have observed slides becoming the focal point of the playground with lots of children around it. Every kid constantly wants to utilize the slide since they're so much fun. Although everyone can't use it at once so children have to somewhat of a holdback their temptation to utilize it after a while. That phenomena cultivate significant social skills like cooperation, patience, sharing, and learning resilience of others' abilities and physical capacities.
Install High-Quality and Safe Slides in Your Backyard
Since you gained a lot of insights about slides and the number of advantages they bring to your backyard, we hope now you can avail them with confidence. If you have any further query or are looking for reliable playground slides and Kids Park Swing Manufacturers, then don't hesitate to get in touch with Maskeen Overseas.